So, yesterday afternoon Adam received his 3rd dose of chemo medication and he has now completed his first cycle of treatment. He had no reaction to the 3rd dose this time (thank you, Lord ?) and everything went smoothly. Thank you to all those who had been praying for this!
Last night after his treatment finished, Adam surprised us with a BIG BIG smile. ?? That made me SO happy, I cried.  I had not seen my sweet boy smile in 2 weeks. Luckily, I was able to capture a photo of it.
Dad enjoyed some time with Adam yesterday as well. Adam kept trying to grab his beard, pretty vigorously too. All the nurses keep saying how strong he is, so I believe he's going to fight this cancer!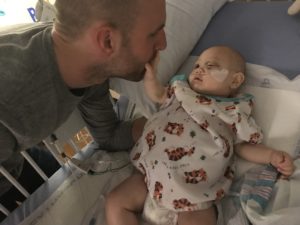 Adam's next chemo treatment (cycle 2) will be in 3 weeks. So for now, we just wait and see how he does over the next few days. He will be under close examination by the doctors and nurses. His immune system is expected to decline in the next few days as the cells in his body are being killed off. That includes the bad and good cells, unfortunately.
He continues to get blood transfusions almost daily. Because the cancer is in his bone marrow, his body's ability to produce red blood cells has been compromised. He's also receiving other infusions which help with his blood's coagulation factors. I've learned so much about all this. I feel like I'm relearning Biology again.
Side note: Thank you to those of you who have donated blood and platelets. Never in a million years did I think that my son would be the recipient of a blood donation. So THANK YOU to all of you who do this! Please know that you are literally saving lives by doing this. It is not a small thing, and our family is grateful to all the donors out there. ?
More updates later today… stay tuned.