Good morning. Yesterday and today have been so hectic, thus the late post. But, we have some new updates for you.
As you all know, Adam had his biopsy procedure yesterday morning at 9:30 am. The procedure was done within an hour and Adam did great. There were no complications, and the surgeon (along with the pathologist) believe they obtained a viable tissue sample which they would be able to analyze for determining its DNA. Some of the tumor was necrotic (dead) so it was important for them to obtain a sample of the live part of the tumor. We will not know the biopsy results until next Monday. (So far away, I knowwww…)
After returning from the recovery room around 12:30 pm yesterday, we were informed by the doctor that we were to be discharged that afternoon. In that moment, so many thoughts ran through my head- were we ready? Was it too soon? What if something goes wrong? How will we know what to do? I hadn't mentally prepared myself for this moment because I didn't think it would be coming so soon. It came as such a shock to me. After living in a hospital for just about this entire month, the thought of going home seemed terrifying and so foreign. But the doctors felt that since Adam's biopsy procedure went well, and since he had been improving so well this week, it was time to send us home, so we could return to a life of normalcy. But, knowing that our new "normal" would never be the same as before was so scary to me. Despite our fears of leaving the hospital where we had the comfort of nurses and doctors right outside our door, we were discharged at 9:30 pm last night. I hesitantly asked the doctor if we could stay one more night, and her response was, "No, Adam needs to go home. You will be fine, you're great parents".  I just about cried after hearing this. As reality finally set in that we were actually going home, I realized that now is when the hard part begins…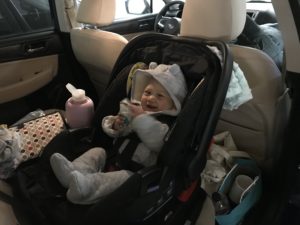 I think Adam was ready to go home, (as you can see from his smiley face ☺) but mom not so much. We didn't realize how much stuff we had accumulated in our hospital room over the last few weeks, so it took us about 5 trips to and from the car. Good thing my parents were at the hospital to help us out. We had to pick up all his meds from the pharmacy, wait for all our supplies for Adam's central line to arrive to our room before we could leave. We drove home last night (in the rain!!) with a full car load of stuff, but alas we made it home around 10:30 pm last night.
Adam's NG tube was removed right before our departure. (Hooray!) His eating had improved the last few days (eating about 20 oz per day) and so the doctors were comfortable with us going home without it. We are SO glad we didn't have to bring him home with the NG! The downside to this is that all the meds he'd been receiving through his NG will now have to be given orally. We have not had success administering oral meds to him in the past, so this morning brought many new challenges to us. It took us a long time just to give him 2 meds. And more meds later this evening. Hopefully this gets easier. We pray that the Lord would lead us and guide us in how to care for our sweet little Adam as we learn to live with all the challenges that come with caring for him at home every day.
We all had a restful sleep last night. Adam, Mom, and Dad all got to sleep in their own bed last night. And Adam slept through the night without needing any feeds! (Good news for Mom!) He slept in the car ride all the way home, and stayed asleep as we transferred him to the crib. I think he slept over 12 hours last night for the first time in a month! Thank you Lord ?
Please pray that the Lord would continue to supply us superabundantly especially now that we are at home. Our current prayer burdens are still the same as previously posted. We are anxiously awaiting the results of the biopsy next Monday. 
Here's some photos of our very happy little boy this morning, with no tubes or wires!!!!!! ♥️♥️♥️